INTRODUCING THE HAPPINESS GIFT SET
A gift from nature that offers the quintessence of Vietnam.
- Trao Group is proud to be the leading supplier of Tet's giftset in Vietnam
In the last five years, products from the Roselle Original Collection (ROSELLE), managed by Trao Group, have received love and respect from all clients. We are proud of being Vietnam's leading manufacturer of Hibiscus products and #1 supplier of Tet gift sets. More than 120.000 Tet gift sets have been served to our valued clients across the region, including Microsoft, Hafele, Vietcombank, Viettel, FPT, and BKAV. Our products have also been chosen as gifts by esteemed hotels and hospitality establishments, such as the Intercontinental Hotel, the JW Marriott Hotel, the Sheraton Hotel, the New World Hotel, and Highlands Coffee. It is from this pedigree that we offer to you, the Happiness Gift Set 2018.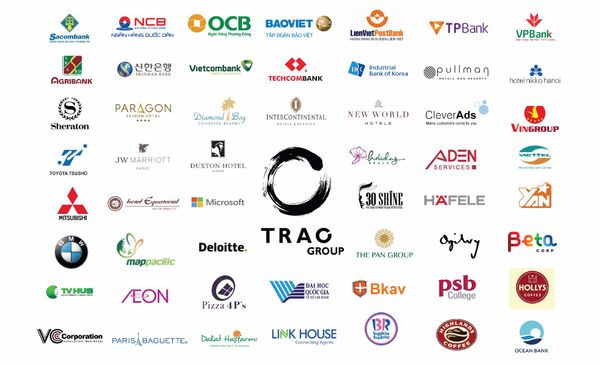 Our valued customers
- A WATERCOLOR PAINTING DEPICTING THE HIBISCUS FLOWER INSPIRES THE HAPPINESS GIFT SET'S DESIGN.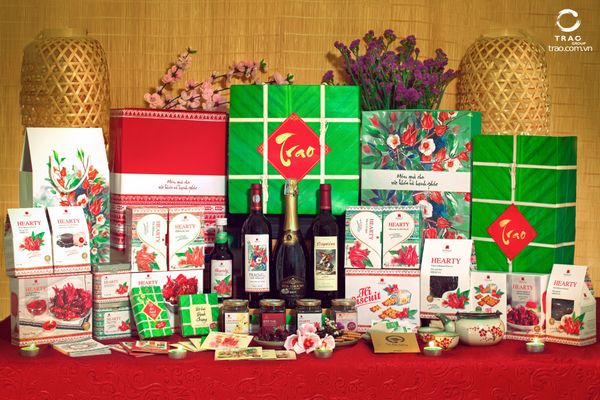 Hibiscus products and giftsets in the 2018 Roselle Original Collection by Trao Group
- ALL PRODUCTS IN THE GIFTSET ARE MADE FROM THE HIBISCUS FLOWER.
Hibiscus Sabdariffa is a symbol of love and happiness. This tropical flower is known and loved for its radiant beauty, unique sourness, and remarkable health benefits. Hibiscus helps to reduce blood pressure and cholesterol, as well as providing essential antioxidants, vitamins, and minerals.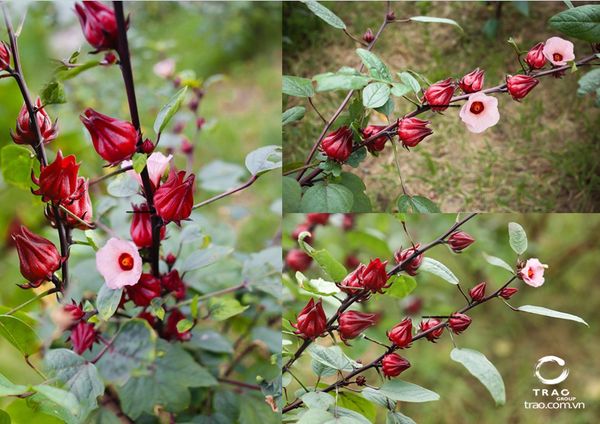 Vườn hoa Hibiscus Nhà máy tại Lệ Chi - Gia Lâm giữa mùa thu hoạch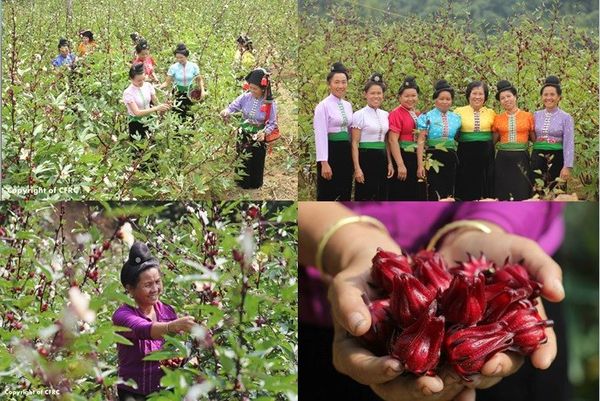 Vùng nguyên liệu Hibiscus tại Tuần Giáo - Điện Biên
Each Hibiscus flower is grown with affection and care from their Vietnamese farmers. When the soft petals fall, the sepals are handpicked and cleaned before processing. Every product is packed with the same care and affection the gift giver passes to the receiver. Let the hibiscus flower bring you warmth and joy this Tet season.
Twelve reasons to choose a Tet gift set from the Roselle Authentic Collection by Trao Group:
Sourced from homegrown Vietnamese agricultural produce.

Products meticulously designed and crafted by Vietnamese people.

High quality products proudly made in Vietnam.

Healthy products sourced from a natural herb that is suitable for all ages.

Products certified by the Japan Import Authority.

Meaningful gifts with distinct characteristics enjoyed by all.

Gifts that can be supplied to large numbers of clients.

Products are available at respectful prices for everyone.

Professional, customizable packaging to accommodate your brand logo.

Unique accessories that fit the Tet aesthetic and bring happiness to all.

World-class customer service and professional delivery options.

You become a sponsor of the Trao Group philosophy to promote respect throughout Vietnam.
- CUSTOMER EXPERIENCES:
Chị Nguyễn Bích Thủy - Giám đốc Công ty thực phẩm chay miền Bắc và Anh Nguyễn Thanh Nhân - Giám đốc Công ty Cổ phần Sản xuất và Thương mại An Phú Lộc:
Hibiscus Recipes:
A Tet wish from Roselle Vietnam:
How to brew the perfect Hibiscus tea:
---
INTRODUCTION OF THE HIBISCUS FLOWER
Hibiscus Sabdariffa is a symbol of love and happiness. This tropical flower is known and loved for its radiant beauty, unique sourness, and excellent health benefits.
Vườn hoa Hibiscus giữa mùa thu hoạch
Reputable institutions both in Vietnam and across the globe have studied the benefits of the Hibiscus plant. What the studies tell us:-
- Hibiscus lowers blood pressure and cholesterol.

- Supplements vitamins (especially vitamin A, C, D, E) and antioxidants, which help to rejuvenate the body.

- Helps weight loss, relieves stress, improves memory functioning, increases concentration.

- Lowers the risk of developing cancers.

- Improves the digestion system and prevents constipation.

- Improves immune system function.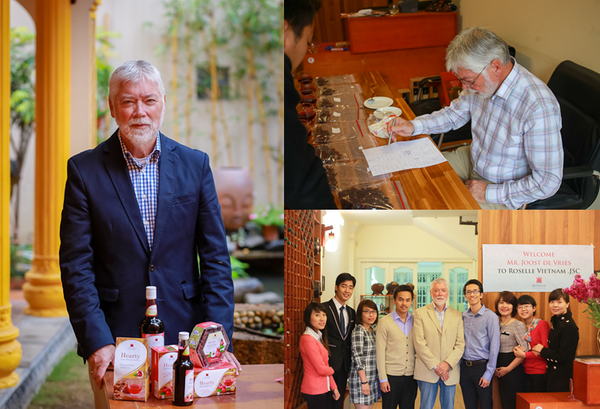 ---
TRAO GROUP was established with the aim of contributing to society. We follow the traditional business principles of the Vietnamese people - earning our living with respect.
TRAO GROUP provides respectful products and services, at respectful prices. We invented the SEEDS management system to grow our business in a way that is very similar to the path of nature. We respect our employees, customers, suppliers, and partners, but most of all we respect nature. Our vision is to become a group of companies that shares the core value of respectfulness in sectors including foodstuffs, gifts, trading, and architecture.
One of Trao Group's notable projects is the Roselle Original Collection. The mission of Roselle is to create products from the hibiscus flower that bring happiness. During our journey, Roselle has reached several achievements we are proud of, including:
- Investing in Hibiscus plant research and development. Many experts, both domestic and international, have taken part in this effort.
- Sponsoring numerous charity events throughout the country, including: Operation Smile Vietnam, Miss Universe Vietnam 2015, TP Bank World Amateur Golfers, Asia Investor Connect Charity Golf, and Nick Vujicic in Vietnam.
- Participating in trade promotion fairs both domestic and international, including: The Vietnam Expo, Spring fairs, Agricultural product fairs, the Charity Bazar, and the Myanmar Trade Promotion Exhibition.
- Distributing Hibiscus products to large retail chains, including: Vinmart, SapoMart, AeonMall, and many others.
- Introducing the Roselle Authentic Collection to high profile clients that have happily integrated Hibiscus products into their menus. These clients include; the Intercontinental Westlake (Hanoi), the Pullman Hotel (Hanoi), the New World Hotel (Saigon), the Nikko Hotel (Hanoi), JW Marriot (Hanoi), Highlands Coffee, and Paris Baguette, just to name a few.
- Gaining the first foothold in the international market with regard to Japan, Korea, China, America, and Europe.
- Investing in the design and creation of aesthetically pleasing products and packaging, which captures the essence of the Vietnamese people and our culture to showcase it to the world. A few examples of these works include the Bronze Drum gift box, the Banh Chung playing cards, the Banh Tet playing cards, and the Monkey Family lucky envelope.
Roselle Vietnam has been featured in:
Vnexpress e-newspaper

Businessman & Law magazine

Businessman Style magazine

Shopping Manual magazine

Health+ magazine

Sketch magazine (a magazine for the Japanese community)

Vietnam Korea News

VinaBoo magazine

Saigon Marketing magazine

To Quoc e-newspaper

Marketing World news

VTC television
Since our establishment we have built a company to promote happiness. We have implemented a working environment to facilitate team members passing on our passion to our customers. We endeavor to create and deliver genuine happiness through our products.
Nhà máy sản xuất tại Lệ Chi - Gia Lâm - Hà Nội
---