Capacity: 1000ml / bottle; 12 bottles / carton

Taste: Mildly sour, sweet and fragrant, taste better when drink cold.
Hibiscus syrup is a line of products preserved by sugar ( no preservatives ) serving the fast consumption habit of customers. Just one part of syrup and 5 parts of water ( 4 parts of water if you want to add ice), you immediately have a glass of both delicious and nutritious drink on hand. Besides, Hibiscus fruit juice is also very convenient in preparation and cooking .
Hibiscus syrup from Trao Group is 100% extracted from Hibiscus calyxes of Hibiscus sabdariffa tree. With the motto of good quality products, reasonable price, long-term competitive criterion in the quality of company products is built with 100 % of products derived from nature providing consumer's health care. Hibiscus syrup with a natural sweet and pink red in a appealling way is directly fermented from Hibiscus calyxes. Thus, the syrup can keep full of Hibiscus calyxes' nutrients which is beneficial for the health of your family.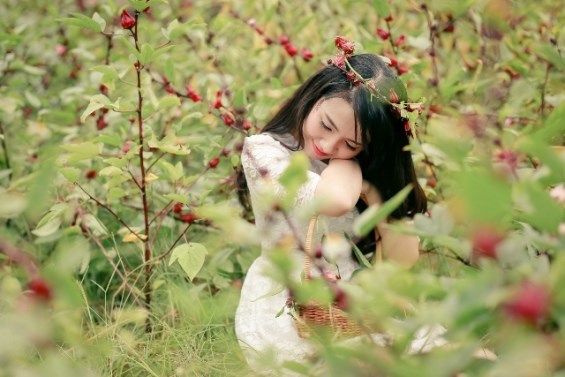 Formula and method to make drink Hibiscus Mystery:
- 1 part of Hibiscus syrup + 4 parts of water + ice
- A few grains of cat salt
- A few drops of lemon
- A few drops of strawberry syrup ( Tesseire strawberry syrup of France is preferrable )
- 1 slice of lemon
Original flavor of Hibiscus syrup is very tasty. However, if you follow this formula, your glass of syrup will become much more interesting and exciting.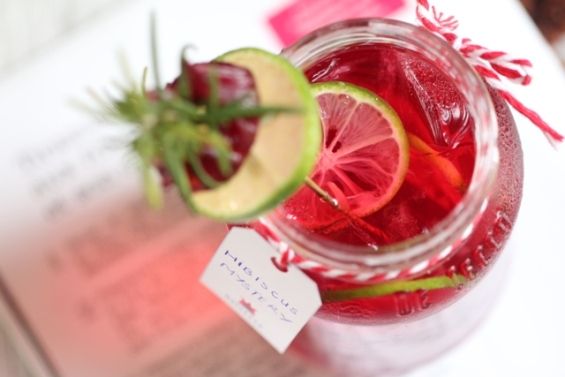 Another simple but exciting formula which you can use to prepare Hibiscus syrup has been used by us and loved by a lot of customers: Mocktail Hibiscus Sunset:
- Put ice first and then the following components into the glass:
+ 1 part of Hibiscus syrup
+ 1 part of fresh orange juice ( or pineapple juice )
+ 1 part of 7 - Up
The glass will have a very beautiful color with red tier 1, yellow tier 2 and white tier 3. You can find more ideas to decorate more attractive glass. When drinking, you should mix all 3 tiers. The glass would be very delicious!
---
Ingredients
: Hibiscus calyxes (Scientific name: Hibiscus Sabdariffa)
Hibiscus Sabdariffa is a symbol of happiness. This tropical flower is loved by the world for its brilliant beauty, good sour taste and great value for health.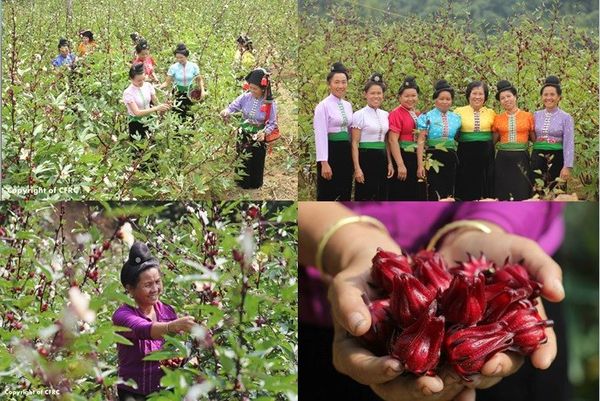 Hibiscus is a great source of Vitamin C.
Hibiscus is a good source of Vitamin C ( ascorbic acid ), a vitamin that the body needs to grow and repair its cells and tissues. Vitamin C is also important for your skin (Vitamin C is necessary for collagen synthesis to help you have a healthy skin, unfortunately, your body creates less collagen over years), to heal the wounds and strengthen bones and teeth. In addition, source of Vitamin C in Hibiscus also helps fever reduction, body hypothermia and sedation.
Furthermore, Vitamin C is also antioxidant ie it prevents the destruction caused by free radicals which are generated when the body absorbs food and are major causes of the aging process, cancer , heart disease and arthritis.
Some people also believe that Vitamin C can help to strengthen the immune system and prevent common colds. However, in fact, vitamin C can only help to reduce the risk of cold by reducing the symptoms or help the body recover faster after illness.
Hibiscus helps the digestive system work better
Hibiscus has the function of curing the common problems related to digestion such as meteorism or flatulence. Hibiscus also contributes to laxative, treatment of constipation, diuretic, urocystitis, limiting stone formation in the urinary tract.
Hibiscus is rich in electrolytes.
Every day when you work, your body loses electrolytes ( such as sodium, chloride, calcium, magnesium, potassium and phosphorus ) through sweatgland. You need electrolytes to regulate fluid volume in your body, maintaining the pH balance in the blood and send electrical signals which are an important part in all the activities of the body. And Hibscus is very rich in electrolytes. Thus, it is a wonderful refreshments after each exercise and is certainly much better than energy drinks containing sugar and artificial chemicals.
Help to rejuvenate the body and reduce the risk of cancer
Hibiscus contains a rare kind of antioxidant which is Flavonoid. The antioxidants work to prevent the aging process of the body, help users stay young, keep their youth. Flavonoid is an effective antioxidant compound which takes up 12% in Hibiscus calyxes and 5-6 % in Hibiscus leaves. The flavonoids are slow oxidizers or can prevent oxidation caused by free radicals that may cause cell dysfunction. The free radicals produced during metabolism are often free radicals as OH •, ROO • ( factors causing variability, destroying cells, cancer, accelerating aging process, etc) .
---
Trao
's mission is to build a happy company, create and provide the products of happiness. Trao builds a happy working environment for each employee, so that the feelings from Trao's people will be 'packed' into each product delivered to the customer.
Tet gift boxes created by Trao for the Tet holiday bring the feelings of excitement and surprise. Every gift box delivers a message of peace and luck from the senders to the recipients.
Hibiscus is a symbol of happiness. So, Trao created and provided products from Hibiscus. Each Hibiscus product is a messenger of happiness that reminds the customers that "True happiness comes from within oneself and happiness is right now." Trao did:
- Invest in product development and research to develop a strategy for Hibiscus. This activity was paid special attention with the participation and cooperation of many national and international experts such as Holland and USA.
- Sponsor dozens of major cultural, social and economic events in the country such as Operation Smile Vietnam; Miss Universe 2015; TP World Golf Championships; Nick Vujicic coming to Vietnam.
- Attending many domestic and international fairs such as: Vietnam Expo EXPO, Spring Fair, Agricultural Fair, Charity Bazaar fair, Myanmar Trade Fair.
- Bring Hibiscus products to most large supermarkets in Hanoi such as VinMart, SapoMart, Aeon Mall, clean food systems and retail stores.
- Many restaurants, cafes and five-star hotels in Vietnam are also using Trao's products such as Pullman Hotel, New World Hotel, Nikko (Saigon), Holiday Beach (Danang) JW Marriot Hanoi, Highlands Coffee; The Kafe.
- Initially bring products to international markets such as Japan, Korea, China, USA and Europe.
- Invest in creating innovative artworks that express the gratitude and love for people and our homeland such as Trong Dong gift boxes, Banh Chung cards, Banh Tet cards, Monkey family lucky envelopes.
Media units that have written news about Trao:
- Vnexpress e-newspaper
- Entrepreneurs & Laws Magazine
- Entrepreneur Style Magazine
- Shopping Handbook Magazine
- Health+ Magazine
- Sketch Magazine (for the Japanese community in Vietnam)
- Vietnam Korea Times
---