Why is Hibiscus called the plant of happiness?
The Hibiscus we always mention is Hibiscus Sabdariffa, a plant with bright red, rosebud-like flowers. In Vietnam, it has various names, both fancy-sounding and commoners friendly. Some people in South Vietnam call Hibiscus "Vo Thuong" ("Impermanence") - a very Buddhistic name. This meaningful name reminds us of a great quote from Monk Thich Nhat Hanh, "Thanks to impermanence, everything is possible".
Hibiscus – The rose of the desert
Hibiscus usually sprouts in April, May or June. This plant has a rare vigorous vitality. Since it's a desert plant, it can grow in wildness, under the relentless unforgiving sun, rising through dry soil without being taken care of by human beings. Thus, it's widely recognized that Hibiscus is a plant of high productivity and economic value, which may become a promising sustainable path to further the poverty-alleviation movement.
The middle of September is when Hibiscus flowers begin to bloom. At first, when the dawn comes the flower buds blossoms, pinkish white petals quivering shyly in early sunshine. Soon, when the sun rises high, the fragile petals slowly wither and fall, leaving the juicy crimson calyxes on the branches to ripe. The calyxes are usually ready for harvesting in October. Right before it's time to reap, the flower garden possesses a splendid beauty that is perfectly fit to become a happy wedding garden where many blissful couples choose to take their most precious wedding photos.

Great benefits from every component
Hibiscus is not just beautiful to the eyes, in fact, all parts of it can be used in daily life. Its leaves are the perfect raw material to make soup or tea. Its trunk can be made into threads for fabric making. The seeds when roasted will become a snack with a unique taste. Hibiscus flowers after being pressed dry will make pretty decorative accessories. As for the calyxes, we can make many products from them, such as tea, wine, jam, sauce, vinegar, biscuits, chocolate, etc.
Products made from Hibiscus are delicious and aromatic. The two most characteristic features of Hibiscus are its redness and sourness. When it is used in food and drinks like tea, wine, jam, syrup, cake, ice cream, they will obtain a tasty sour-sweet taste and a signature scarlet colour, which will surely bring excitement and surprise to the consumers.
The products made from Hibiscus are also well suited to be used in festivals. Many places in the world use Hibiscus Champagne as a common drink in weddings. Hibiscus tea was also loved in Egyptian wedding ceremonies (in fact, there are many studies stating that this plant was originated in Nile Valle, Central America - North Africa).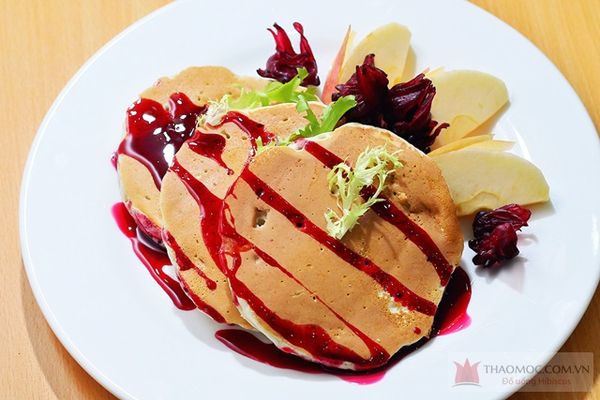 A special herb beneficial for health
One of the greatest values of Hibiscus is its benefit to people's health. Thanks to the valuable medical components, Hibiscus can reduce blood pressure, hyperlipidemia and risk of cancer, at the same time, it provides vitamin C and Antioxidant Flavonoid which slower the body's ageing process. These benefits have been recognized by many prestigious researches and scientists in the world. Notably, Hibiscus tea not only helps reduce blood pressure but also gives the drinker a sense of relaxation, thus greatly contributes to a good sleep. Taking each sip of Hibiscus tea is a way of slowly enjoying each moment of life.
Hibiscus – The plant of happiness
A beautiful plant growing in the arid soil, bringing a better life for many respectable farmers, as well as being a delicious, unique, completely natural food with many great health benefits ... - Hibiscus indeed deserves being called the plant of happiness, because it truly is a symbol of happiness on its own.
For more information about our products, please contact:
Trao Group - "Respectful products at respectful prices"